DustDice Dice Games Review – Scam or not?
Address
Arizona, Phoenix, United States,
Software
Webbased, Mobile friendly
Bonus
no welcome bonus or other bonus
Bitcoin Dice Game with Dustdice.com
Today we will be looking into Dustdice.com and learn more about their offered Dice Game. Before you are able to see their Dice game, you need to register with MoneyPot first. For you to register an account with them you just need to provide a Username and Password for you to be able to create an account. You do not even need to provide an email as this is just an optional feature that you are able to skip. After you have selected your username just click on register and you are good to go.
The confirmation tab pops-up and you are able to add a Two-Factor Authentication feature if you want to add this to your account. You are able to add this if you want or you can just skip the whole process and proceed into your account with MoneyPot.
MoneyPot will then ask for your Authorization to link an account with Dust Dice. Click on "Enable and Continue to Dust Dice" button found on the lower part of the confirmation page.
Dust Dice Tutorial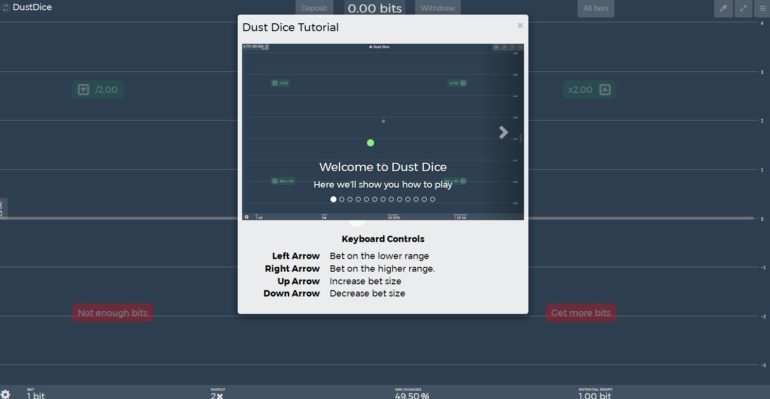 Once you click on the Enable button after finishing the registration process you will then be redirected back to Dust Dice and shown a tutorial. The tutorial is basically all about the things that you need to know about their website and how to navigate the Dice Game they offer. A screenshot is shown below regarding this tutorial.
Dice Game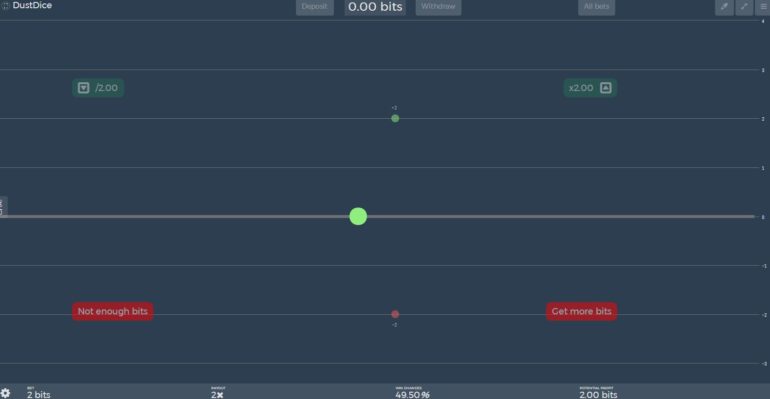 The Dice Game that they offer on this website is far different from the normal Dice Bet games that you see with other online casino websites out there today. Their Dice Game consists of dots and lines that would not look like your typical casino dice game. Don't get easily confused on their Dice layout as it is still a Dice Game, the design is just different.
To play the game you first need to adjust the bet settings which can be accessed through the cog-like button located on the lower left corner of the screen. Below is a screenshot of the settings that you are able to tweak on your own advantage. I have dotted the important parts of the tab for you to take note about.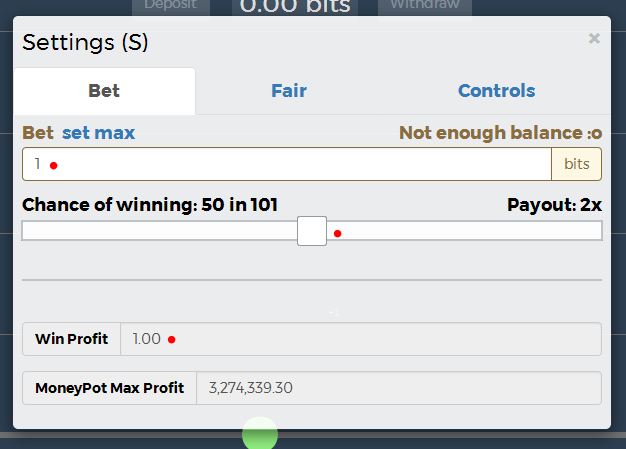 On the top most part of the tab, you are able to see the space for "Bet", of course, obviously, this is the part where you place or edit your bet. Below that would be the bar where you are able to scroll your desired settings mark. Below that which is the final and most important part is the "Win Profit" tab. Here you will see the total winning per dice depending on how much you placed on the table.
Conclusion
The website of Dustdice.com is far from "user-friendly" as you need to understand which is which. The layout is "futuristic" to say the least and it can easily be confusing. My advice is to read through the tutorial message to get an idea on how to play and navigate their website/game. The only bad thing is that you are unable to play for "Free" with their dice game and try it out for no cost.
Bonus
no welcome bonus or other bonus

Located in
Arizona, Phoenix, United States,
Go to dustdice.com