Green Casino Dice Games Review – Scam or not?
Bonus
no welcome bonus or other bonus
Languages
English, Russian
Pokergames
Aces & Eights, Aces & Faces, All Aces Poker, All American, Bonus Deuces Wild, Deuces & Joker, Deuces Wild, Double Double Bonus Poker, Jacks or Better
Support
Live Chat, Contact Form, Email, Social Media
Games
Slots, Video Poker, Card Games, Table Games, Lottery, Dice
Bitcoin Dice Game with Greencasino.com
Today we will be looking into Greencasino.com and what are the Dice Games they offer. I have looked around their website and unfortunately, I only found one Dice Game available to play with and this is non-other than Craps! Honestly, I was quite happy to know that they have Craps playing on this website. Most of the online casinos out there today do not even have one single Craps table playing.
It is very easy to get into a demo game as you do not need to register with them. Though the "Registration" tab keeps popping up, you are still able to enjoy a few throws of the dice and get that "feeling" before bringing in the real Bitcoins from your wallet.
Here are a few things that I found out about their Craps Game:
Craps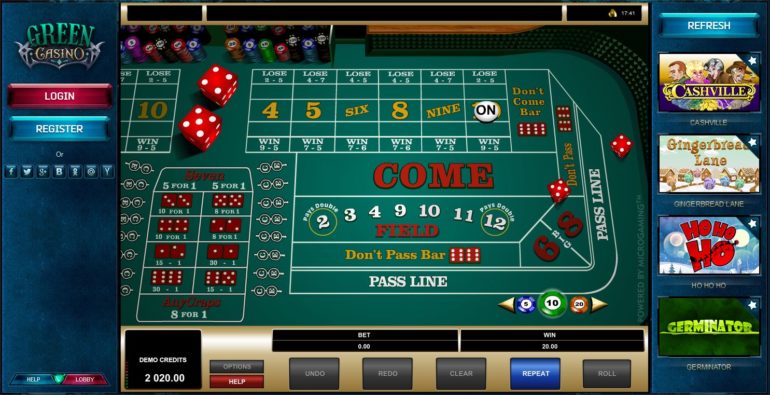 Bet – Choose from 1, 2, 5, 10, 20, 50, 100, 200 and 500 Chips
You start the game by placing your bets on either of the available bet combinations written on the table. The game of Craps is a progressive game wherein you are able to win multiple bets at once if you are able to read the table right. That's what is great about this game and why people love to play it. This game is no different from the ones played within the walls of real casinos around the world.
The game mechanics of placing down bets doesn't work as I have tried to replicate what it said when you first open the game. To place a bet, you need to click on the chip that you want to place and click on where you want to place that bet. However, you are unable to remove your bet using the right-click on your mouse as this doesn't work.
To remove a bet from the table all you need to do is click "UNDO" to undo your latest bet or click "CLEAR" if you want to clear the table of all bets. Clicking on "REPEAT" will repeat your latest bet and make it ready for the next dice.
My personal technique in playing Craps is to just place bets around the table and just let my luck play it out. At the end of the day, all casino games are just luck-based games, unless rigged.
Conclusion
The Craps game they offer here at Greencasino.com is great! It has all the features of a table that makes it "realistic", the visuals are great and the response time is not crappy, if you know what I mean, no pun intended. You are able to place bets without problems or lag and remove anything you do not like with just a few clicks. Lag disables that real casino "feel" that most of you want to feel when playing in online casino websites just like this one. I know I personally look for that "casino feel" in playing online and not just play for the sake of it.
All-in-all, this is a great website to try their Craps Game and just have fun with their other casino games and take advantage of their Bonuses. If you have extra time in your hands, I suggest to try them out as they offer DEMO GAMES without any hassle.
Bonus
no welcome bonus or other bonus

Located in
Nicosia, Cyprus
Go to greencasino.com