OmniSlots Dice Games Review – Scam or not?
Address
Curacao, Netherlands Antilles
Bonus
Enjoy 100% bonus on your first deposit up to a staggering € 300 - Plus get 50 Free Spins!
Languages
English, Spanish, German, French, Swedish, Russian, Finnish, Norwegian
Pokergames
All American, Bonus Deluxe, Deuces Wild, Jacks or Better, Louisiana Double Poker, Poker Pursuit
Support
Email, Social Media, Live Chat, Contact Form
Games
Video Slots, Classic Slots, Fruit Machines, Jackpot Slots, Table Games, Keno, Video Poker, Scratchcards, Soft Games, Dice
Bitcoin Dice Game with Omnislots.com
Today we will be looking at Omnislots.com. Before we move forward, I would like to inform you that Omnislots is not available for US players as you would probably get blocked by the website. Since I am from Europe and I use EU IP, I was able to see their Craps table. My suggestion would be to use a browser VPN to take a peek at their website and see what I am currently seeing.
The first thing that I noticed about their website is that it is neatly designed and refreshing. The white background is just perfect and I like how they laid it all out. You have everything on the main page tab list from Games, Promotions, VIP Rewards, News, and of course, their support tab. They have their search button placed a bit down, so don't miss it!
We will be looking into their available Dice Game that you are able to play with them.
Craps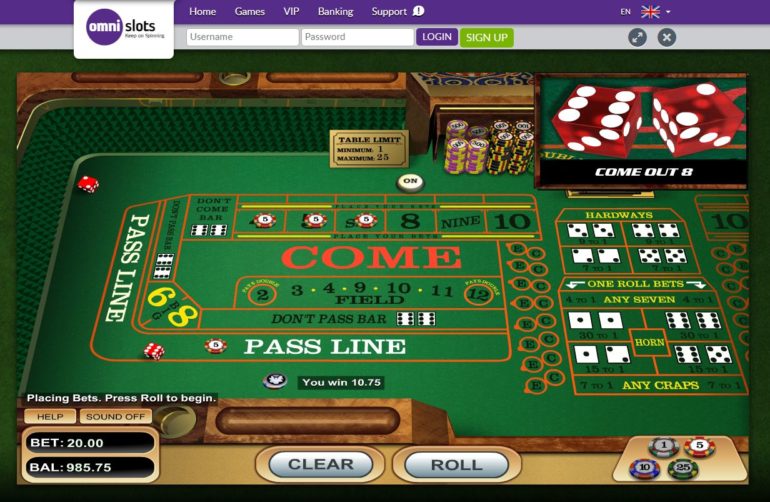 Craps is probably the most popular Dice Game in the world as most casinos today, may it be an online casino or not they have a table laid out for you. But not all online casino websites have Craps table that is why it is a pleasure to have one here at Omnislots.com.
Bet – Choose from 1, 5, 10 and 25 chips (Maximum bet is 1 and minimum is 25)
To start the game you first need to choose your bet. Luckily with Omnislots, you are able to play their games with free balance. This means that you are able to try out the games for free! Place your bet on the dice probabilities laid out and you are good to go. Remember that the maximum bet is 25! Quite small compared to other online casino websites that offer maximum bets of up to 500 chips per game.
What's really interesting with Craps is the fact that one set of bets would not get you off the table right away. This means that you are able to win multiple times with just one single dice roll as long as you hit the proper bet markers. So before you place down your bets and hit "ROLL" make sure that you got everything covered. My strategy is to play a few dice rolls with a minimum bet and see what the current table "situation" is before going in for the big bucks.
Conclusion
Their website as mentioned earlier on this review is awesome! This is the one thing that I like about Omnislots.com as their website is professionally designed and properly thought about. It is not just a bunch of games piled up together to look "packed", they actually put thought in designing the layout and made sure that everything that a new player needs is just right there. I would really recommend playing a game or two with them as you are provided with free tokens to play around with. Take advantage of that feature and have fun!
Bonus
Enjoy 100% bonus on your first deposit up to a staggering € 300 - Plus get 50 Free Spins!

Located in
Curacao, Netherlands Antilles
Go to omnislots.com